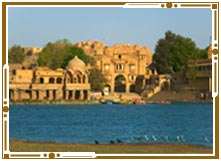 Location:
7 K.M. in the western outskirts of Jaisalmer
How to reach:
Hire a cab or share an Auto-rickshaw
Attractions:
Lake and a Palace
Amar Sagar is a small and beautiful lake cum Oasis and is adjacent to a 17th Century palace called the Amar Singh Palace. Maharawal Akhai Singh built this palace in honor of one of his predecessors Amar Singh. Next to the palace are pavilions with a large stairs leading down to the Amar Sagar Lake. This haveli has been constructed in the pattern of apartments. The Amar Sagar is a five story high haveli and is famous for its murals. Wherever you go in this haveli, you will notice beautiful murals painted with delicate efforts.
You can find many of wells and ponds in the surrounding which have a royal air about them. There is an old Shiva temple in the complex itself. Amar Singh built this because he was supposed to be an ardent follower of Lord Shiva, a Hindu God related to destruction.