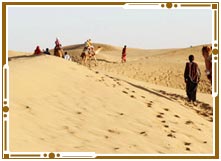 Lonely roads, scarce life, no vegetation; where are we? Amid deserts where the horizon meets, you and only you remain. A camp in the lap of nature: so barren yet so subtle. You have all the time in the world to spend on yourself. Precious time, which you yearned for…
A proper camel Safari in the Desert can only experience all these. The thought finding oneself between the sea of sand is itself mesmerizing. The hobbies of royalties of Rajasthan have come within the reach of the masses. A large number of travel agents and tour operators in Rajasthan organize camel safaris. Jeep safari is also worth taking in Jaisalmer if you are a fun loving and adventurous creature.
Jeep safari is usually affordable and is generally done on 4X4 open Jeeps. These are powerful machines and are fit for long excursions such as Sam Sand Dunes and Phalodi. You can opt for the same in the Desert National Park too.