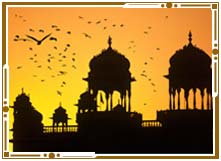 Situated amid picturesque Thar Desert, the Jaisalmer city commands premiere position among the tourist attractions scattered all over Rajasthan. The Jaisalmer city is revered both by Indian as well as foreign tourists.
Who would have dreamt in such a vast sand oasis a castle worthy of an ancient throne, such an art in carven work of stone? It is like straight out of an Arabian Nights fable. The name Jaisalmer induces a dramatic picture of utter magic and brilliance of the desert. The hostile terrain not withstanding the warmth and color of people is simply over whelming.
Like various other cities of Rajasthan, in Jaisalmer too you will find different facets of its own glorious heritage too. Tough you can find historical monuments scattered all over the city, the Jaisalmer Fort will immediately command your attention. Made of sand stones and locally known as Sonar Quila, the Jaisalmer Fort is a dominating structure between the sands. The Jaisalmer city is also revered for its Havelis. Among many of them you will find Salim ji ki haveli and Nathmal ji ki haveli as the most striking. There are other monuments too, which are equally important because of there distinct and individual architecture. The amalgamation of ancient and the medieval era architecture will catch your fancy.
Had enough of architecture jargons, move out of it. Visit Gadsisar Lake and take a close look on the migratory birds as they indulge in amorous fight. Or else visit Desert Cultural center to take a sneak peek of Rajasthani culture. There is enough to keep you busy for days in Jaisalmer itself.
This
tour of Jaisalmer
takes you through all the important tourist destinations of the city along with those of Jodhpur.