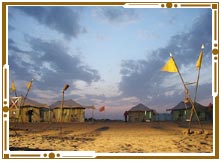 The outskirts of Jaisalmer are no less than Jaisalmer when it comes to splendor. Want to loose yourself in the desert, come to
Sam Sand dunes
. Stay in the camp in solitude and just look at the sun setting behind the horizon. Or else you can also opt for
Khuri sand dunes
if you want yourself to get pampered by Rajasthani hospitality. Listen to local folk music and enjoy authentic Rajasthani cuisine. Visit
Lodurva
, the ancient capital of the Bhattis and appreciate the Dilwara style paintings scattered all around he ruins.
If you are a history freak then opt for
Amar Sagar
or
Bada Sagar
and live the rich cultural heritage once and forever. Want to wind the clock backward! Visit
Fossil Park
and let your geological part take the initiative. Are you a conservationist? You can try your hands at the
Desert National park
or opt for
Phalodi
if you prefer extreme solitude. There is so much to see and explore in Jaisalmer! Apart from Jaisalmer, you can also visit other
tourist attractions of Rajasthan
such as Jaipur, Jodhpur, Udaipur, and Ranakpur.