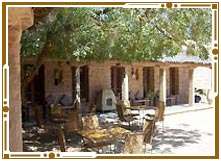 Location:
140 K.M. near Jaisalmer
Major Attractions:
Latiyal Mata Temple, Demoiselle Cranes, Ossian and Ramdevra temples, 300 years old Jain Temple
Located 141 km from Jodhpur District headquarters, Phalodi is an old caravan center in the Thar Desert. This town was a trading center being on the land route from North Western India into Central India. The area saw a lot of movement in those times. Though various rulers ruled this city, it was originally under the rule of Rao Maldev Rathore of Jodhpur. Thereafter for a short while this town came under the direct rule of Emperor Akbar. But Akbar's policy of appeasement saw the town in the hands of the rulers of Jaisalmer.
Phalodi is thought to have been founded in the 15th century. In the books of history this town was famous for Jain and Hindu temples. It is believed that some of these temples are over 300 years old. There are a number of havelis in Phalodi. Most of them are typical in their style. Most of the havelis have their entrances towards the main road; special attention has been given in building Jharokhas and Jaalis to keep womenfolk in seclusion. Nearly all of them are painted in vibrant colors. Temples prefer bright yellow for the doors, a fabulous combination against pristine whitewashed walls, the sand and the colorful attire of the womenfolk.
Phalodi town is famous for its delicate 'jooti'. These shoes come in various shapes and sizes but will be decorated with heavy embroidery. You can bargain and buy some of these. If you like bangles then this place has to offer a lot. You can find it wherever you go in the town. A small bead jeweler's shop quickly puts together Bishnoi style necklace complete with enormous pendants. Correspondingly, workmanship and artistry of a high order also appears to be an inborn gift of the people here.
How to Reach Phalodi
By Air
Jodhpur is the nearest airport, which is 135 km away.
By Rail
Daily overnight trains from Delhi, Jodhpur, Jaipur and Jaisalmer; the railway station is 1.5 km away.
By Road
Phalodi is well connected by road network from Delhi, Mumbai, Bikaner, Nagaur and Jodhpur.