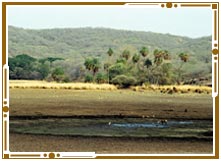 Location:
40 K.M. from Jaisalmer
When to Visit:
From November to March
How to Reach:
Hire a cab or take a Bus ride
Activities:
Jeep safari, Camping, Bonfire and bird watching
The Desert National Park is situated in the Indian state of Rajasthan near Jaisalmer. The Desert National Park is a protected sanctuary. The park is considered not only the largest in the state of Rajasthan but among the largest in India. The catchments area of the Desert National Park is around 3100 sq. km. The desert is a harsh place to sustain life and thus most of the fauna and flora live on the edge. Nevertheless this place attracts large hoard of migratory birds due to its close proximity to Bharatpur.
The great Indian Bustard is a magnificent bird and can be seen in considerably good numbers. It migrates locally in different seasons. The region is a heaven for migratory and resident birds of the desert. One can see many Eagles, Harriers, Falcons, Buzzards, Kestrel and Vultures. Short- toed Eagles, Tawny Eagles, Spotted Eagles, Laager Falcons and Kestrels are the most common among these.
The substantial part of the park is on a landscape, which comprises of lakebed of extinct salt lakes and thorny scrubs. It is a wonder in itself that how come living organisms flourish in these harsh conditions. Similarly, a considerable area of the Desert National Park consists of sand dunes. If you really want to explore the magnificent wildlife at the Desert National Park in Jaisalmer then the best way is by setting out on an adventure-filled jeep safari. And yes, don't forget to carry a really good pair of binoculars and any of Ultra Zoom SLR cameras.