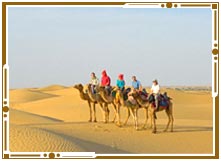 Location:
In the outskirts of Jaisalmer, 42 K.M. from the main town
How to reach:
Jeep or any other 4 wheel drive SUV or Camel back according to your convenience
Famous for:
Sand, sands and only sands
There is no point coming to the Thar Desert if you don't go for the Desert Safari. That is why Sam sand dunes are becoming the major attraction in Jaisalmer. This is the closest place from where you can loose yourself in 'the Great Thar Desert'. Sam has a truly magnificent stretch of sweeping dunes, with sparse or no vegetation. The best way to get here, of course, is on camelback.
Join a camel caravan at Jaisalmer on your Rajasthan tours and ride along the breathtaking crests and troughs. Enjoy the romance of solitude as your camel takes you deep in the hearts of the Thar Desert. Put yourself in the camp and experience the sun setting behind the horizon. Organize a bonfire with the fellow tourists in the night and enjoy the rustic and earthy music and dance of Rajasthan.
In the month of February/March, this whole place turns into a cultural hub. The desert festival organized amid these dunes is the showcase of Rajasthani culture as a whole. Open-air cultural extravaganzas, puppet shows, folk dance performances, camel races, competitions and general festivities mark this annual event that is held with great pomp and show at the Sam Sand dunes in Jaisalmer, Rajasthan.