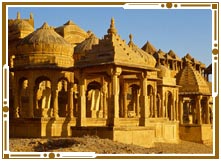 Location:
6 Km off the Jaisalmer city on Ramgarh Road
How to reach:
Take a cab or hire a Rickshaw
Attraction:
Garden and Cenotaph
Bada Bagh, which literally means 'Big Garden', is located on the Ramgarh road. It was commissioned by Maharawal Jait Singh in the early 16th century and completed by his son Lunakaran after his death.
The site has three different things to watch, a garden, a tank and a dam. In the vicinity itself you will find Govardhan Stambh (pillar). This pillar was constructed to commemorate the construction of the Dam and the tank. In the local dialect the Dam and the tank are known as Jait Bandh and the Jait Sar respectively. It is believed that these are based on the name of the man who constructed them. The Jait Bandh is a dominating structure. It is about 1,200 feet in length and 350 feet in width. If you observe it closely you will notice that this has been built out of solid blocks of stone. The same material has been used for the construction of well as well as the tank.
Cenotaph
Other interesting monuments in the vicinity are the Cenotaphs. These cenotaphs also known as chattris and were constructed by the various Bhatti rulers. One cenotaph has been erected for each ruler. The oldest among them is the cenotaphs of Maharawal Jait Singh who reigned from 1470-1506. This tradition was discontinued when in 1947, one of the prince died of a mysterious disease. This was taken as a bad omen and thus this tradition came to its end.