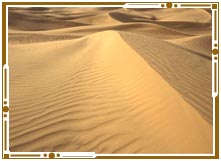 Location:
In the outskirts of Jaisalmer, 40 K.M. southwest from the main city
How to reach:
Take a camel safari or any powerful SUV
Attractions:
Camel safari, Mud houses and Desert solitude
Khuri sand dunes are slowly picking up in the must visit charts of tourists. If you find Sam sand dunes a bit crowded then you can very well opt for Khuri sand dunes. Situated just 40 K.M. off the town, Khuri is a must visit for tourists seeking solitude in the desert. It is a peaceful place with houses of mud and straw decorated like the patterns of Persian carpets.
The Khuri sand dunes offer you a memorable experience in the land of the Rajputs. Enjoy the ride on camel back and let the place itself take you to its mesmerizing heights. Get closer to the local way of living with a close view of thatched straw roofs, camels, narrow streets and the local bazaar. At the night, organize a campfire with the fellow tourists (if any) and listen to the songs of 'Kalbeliyas'.
You can also try Rajasthani cuisine for a change and just keep looking on sand dunes as it changes its hue during different parts of day. And say adieu to the sun as it sets behind the crimson red sand dunes.