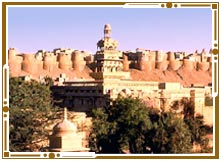 Location:
Near Badal Palace in the heart of Jaisalmer
How to reach:
Take an auto-rickshaw or a rickshaw
Attractions:
Minarets and architectural fusion
Timings:
Early morning till 5 P.M.
Tazia Tower of Jaisalmer is one of the major tourist attractions. If you have done with the various Rajputana architectures scattered in the city, Tazia tower will come as a welcome break to you. It is situated in the excellent 'Badal Palace' complex located near Amar Sagar Gate. These were the homes of the former royal family. The Tazia tower is a 5-storied structure where each story has significance in its own. On each floor there is a balcony that is famous for their individual designs. This was built by Muslim craftsmen and is based on the shape of Tazia. Tazia is actually the replica of Mausoleum of various Imams. They are made of wood, thermocol and colored papers. The architects gifted it to the then royal patrons.