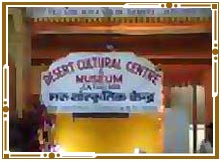 Location:
Jaisalmer city on Gadi Sagar Road
How to reach:
Take a cab or auto Rickshaw from the hotel
Timings:
10 A.M. to 5 P.M.
Importance:
Rare coins, manuscripts are in abundance
Desert cultural center and museum is a place where you will get to know about the rich cultural heritage and customs of Jaisalmer, a popular destination in Rajasthan. So if you are short on time and cannot mug up in library, this is the place to be. The place is well maintained and harbors rare coins and manuscript related to Jaisalmer history and the history of Rajasthan in whole.
This museum has some eye-catching collection of traditional Rajasthani textiles, utensils, weapons, musical instruments and fossils. One thing that is very popular among foreigners is 'Karal', the traditional opium mixing box. The place regularly organizes showcase programs for tourists. Try to get there before the mentioned time in order to avoid rush.