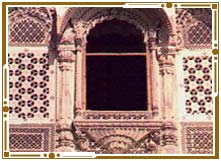 Location:
In the heart of Jaisalmer
How to Reach:
Take a rickshaw or just walk the distance
Attraction:
Architecture and miniature
Timings:
Early morning till 5 P.M.
This Nathmal Ji ki haveli was commissioned to serve as the residence of Diwan Mohata Nathmal, the then Prime Minister of Jaisalmer. Maharawal Beri Sal commissioned the construction of this Haveli. The architects of this haveli were Hathi and Lulu who happened to be brothers. There is a very interesting story regarding its construction. It is said that the two brothers started building different facets of haveli simultaneously. In those days there were no such instruments, which could keep a track on continuity and thus when this building came up finally it had irregular shape.
Barring that, this haveli is still considered the best in Jaisalmer in terms of grandeur. There are other minute details worth appreciation. For example there are two Elephants made of yellow stone. These life-size replicas have been put in front of the main entrance so that it looks as if they are guarding the Haveli. Other than these, there are pictures engraved on pillars and walls. These consist of Horses, Cattle, and depiction of Flora among other things. But the most interesting aspect of this haveli is the drawing of modern amenities such as cars, fans etc. It is said and believed that the Architect brothers dint see these things ever in their life and engraved it with mere help of their descriptions given by people who had seen it.
Thus the architecture present in this haveli is quite different from the one popular in other parts of Jaisalmer. The workmanship of Jaisalmer havelis is an amalgam of both Rajput architecture as well as Islamic art that was imported via the traders' caravan through the desert.