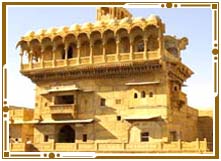 Location:
In the heart of Jaisalmer near Railway station
How to reach:
Take a rickshaw ride to avoid traffic jam
Attraction:
Architecture, chiefly balconies
Timings:
Early morning till 5 P.M.
Salim Singh ki haveli has been built on the remains of an older haveli built in the late 17th century. The new building was built in the year 1815 and was occupied by the Mehta family of Jaisalmer. They were the most influential family of their time. This haveli was commissioned by Salim Singh, the then Prime Minister of the kingdom when Jaisalmer was the capital.
The haveli has a distinct architecture. The roof has been constructed in the form of Peacock. The haveli is situated beside the hills near the Jaisalmer Fort. People claim that Salim Singh made two additional floors in order to make it as high as the fort but the Maharaja did not take this attempt in good spirit. He ordered the extra floors to be torn down. Nevertheless we do not find enough evidence to corroborate the story.
Like other havelis in Jaisalmer, this too has tuskers guarding the gateways. These are made of sand stones and look very close to the original in appearance. The haveli consists of as many as 38 balconies and they all have distinct designs for themselves. The front facet of the haveli resembles ship stern and thus this haveli is also sometimes referred as Jahazmahal.