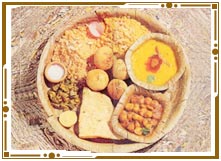 The colourful land of Rajasthan also offers lots when it comes to cuisines and traditional food. As a vivid traveller you must try out various traditional Rajasthan dishes and food that are easily available in this beautiful desert city as well. The city of Jaisalmer has a rich cultural heritage, which is very well reflected in its rich cuisine. The western part of India has a distinct food culture of its own, which is so very different from the North Indian cuisines.
The
murgh-e-subz
succulent, boneless strips of chicken stir-fried with shredded vegetables, is one not to miss. Alternatively, you can try the
ker sangri
(desert beans and capers), which is unique to a region that traditionally saw very little meat. If you have a hearty appetite, the tandoor thali tops: two chicken preparations (including the ubiquitous but delicious
tikka
), vegetable kebab, mint sauce, and
naan.
Sensitive stomachs can opt for the kadi pakorao, flour dumplings cooked in yogurt sauce, or
bhanon aloo
, potatoes stuffed with mint paste and simmered in gravy. All of it washed down with the coldest beers and beverages available in the state.