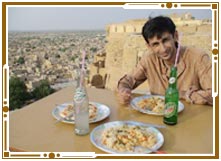 The city of Jaisalmer has a rich cultural heritage and thus it boasts of a rich cuisine as well. The western part of India has a distinct food culture of its own and it is very different from the other Indian cuisines. If you have done with the oily and sticky dishes they serve in Delhi, try
murgh-e-subz
. The
murgh-e-subz
- succulent, boneless strips of chicken stir-fried with shredded vegetables -- is one not to miss. There are other options for non-vegetarians too. Alternatively, you can try the
ker sangri
(desert beans and capers), which is unique to a region that is traditionally vegetarian in its outlook. If you find your stomach to be very sensitive then its better you try
kadi pakora
; flour dumplings cooked in yogurt sauce, or
bhanon aloo
, potatoes stuffed with mint paste and simmered in gravy. All of it washed down with the coldest beers and beverages available in the state.
'Trio'
is one of the most famous restaurants serving authentic Rajasthani cusienes. This unassuming eatery, with its open walls and thin cotton flaps providing a welcome through-breeze (not to mention views of the town and the maharaja's palace) is Jaisalmer top restaurant and one of the best in Rajasthan. Witness the traditional Rajasthani reception. It's not just that the food is delicious, but the chef brings a few interesting variations to signature Rajasthani dishes- a welcome relief to someone who has exhausted the almost standardized North Indian menu.
'Chokhi Dhani'
is another famous restaurant, which can be trusted. Though it is not as good as 'Trio' but you will get a long list of cuisines to select from, under one roof. Besides, all major High-end Hotels have their own in house Restaurants.
As far as fast food joints are concerned, Jaisalmer has lots of them. Famous Indian fast-food chain such as Nirula's has already made its presence felt in the city. Other major fast foods joints such as Pizza Hut, Pizza Corner and Mc. Donald's etc have also opened their outlets in the city.