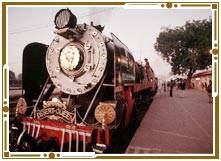 Jaisalmer is situated in the very heart of Rajasthan and a popular tourist destination therefore it is well connected to the rest of India and Rajasthan with airways, railways as well as roadways.
How to reach Jaisalmer by Airways
Though Jaisalmer is not directly connected to Airways as such, Jodhpur airport is 300 Km away. Jodhpur is connected to all the major metros of India by government owned as well as private airlines. From Jodhpur you can hire Cabs or take a train journey according to your wish and preference.
How to reach Jaisalmer by Railways
Jaisalmer is connected to major cities of India through broad gauge as well as meter gauge railway tracks. Direct trains from Jaisalmer are available to Jodhpur as well as Delhi. Jaisalmer is connected through both 'Broad gauge' as well as 'Meter gauge' tracks. You can also travel to Jaisalmer by
Palace on Wheels
.
How to reach Jaisalmer by Roadways
Jaisalmer is well connected to the rest of state by well-maintained roads. Due to its proximity to Indo-Pak boarder, special emphasis is given on its maintenance. Deluxe & Ordinary buses of Rajasthan Roadways & Private companies operate form Jaisalmer to Jodhpur, Jaipur, Bikaner, Barmer, Mount Abu, Jalore, Ahemdabad etc, Roadways main bus stand opposite Railway station & Golden bus terminal near State Bank of Bikaner and Jaipur, Shiv road, Jaisalmer are the two major bus stands.
Local transportation in Jaisalmer
General transportation in Jaisalmer consists of auto rickshaw and bicycles because these are good means to get around. Auto rickshaw is a cheap mode of transportation but drivers might not be friendly all the times. It is recommended to take rickshaw when you take congested roads in order to avoid bottlenecks.