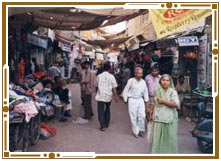 Your Jaisalmer trip would be incomplete if you don't buy some typical Jaisalmer goods as souvenirs for your near and dear ones. A number of traditional Rajasthani handicrafts are available in Jaisalmer. Jaisalmer is famous for embroidery, Rajasthani mirror work, rugs, blankets, antiques and old stonework. There are lots of shops but try to venture in government owned and operated ones. This will save you extra dollars that would have gone in the pockets of guides in the form of commission. If you want to buy fabrics such as Tie-dye and other fabrics, try the government operated Khadi Gramuddyog Bhavan.
Shop for exquisitely carved wooden boxes in tiny curio shops. Traditional rugs, hand woven blankets and shawls in typical Rajasthani color and weave are also available. Don't miss to buy souvenirs for your dear ones. In that case, Mirror work, embroiders article silver jewelry, Trickles and Curios are must buys of Jaisalmer. The shopping spots are within the fort and include Sadar Bazar, Sonaron ka Bass, Manak Chowk, Pansari bazar, Gandhi Darshan, Seema gram, Rajsthani Govt. shop and Khadi Gramuddyog Emporium. Apart from these popular markets, you also have the option to
send gifts to Jaisalmer online
for occasions such as Rakhi, Diwali, Navratri and Holi.